Award Management
Post Award: What We Do
We ensure responsible stewardship of research funding and ensure accurate and complete accounting of income and expenditures on sponsored research projects.
We provide advice and assistance to faculty and administrators regarding award management and compliance with sponsored guidelines.
We administer subawards and subcontracts.
We assist in the preparation and filing of specialized financial reports, backup documentation and submission of invoices.
To request post award assistance, please submit your requests throught the OERA Request System.
---
The Post Award Process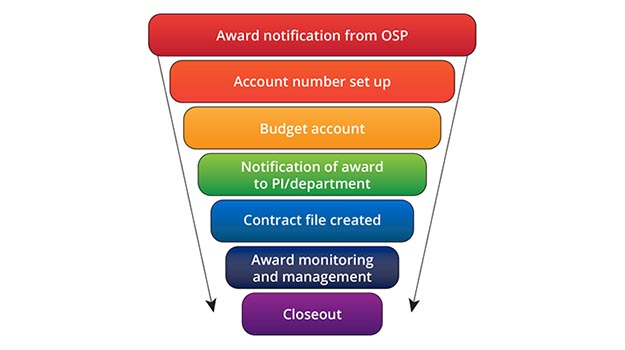 Various individuals/groups need to work together throughout the life of an award to effectively manage sponsored research awards:
OERA – Post-Award Office
Principal Investigator
Departmental Financial Coordinators
Finance Office
Office of Sponsored Programs
Research Accounting
The Post Award Office serves as the liaison between the principal investigator, the Office of Sponsored Programs, and the funding agency for administrative actions, including but not limited to:
No-cost extensions
Budget revisions
Grants transfers
Changes in key personnel
The Post Award Office also assists in the documenting of proposal cost share and handles close-out of accounts, submission of final financial report, equipment disposition, and invention reports.
More post award information is available on the Office of Sponsored Program's website at research.psu.edu/osp/post-award.
---
Post-Award Contacts
---